Want to Make Some Extra Money?
Do you own a website and want to make some extra money just for referring other direct sellers to advertise on Work at Home Mom Online?
Currently you can earn a 30% commission with no minimums on any of our advertising options.
You can earn:
$10.80 for every Business Opportunity Listing @ $36/ 1 year
$4.50 for every Home Page Ad or State Directory Listing @ $15 each.
Get started by signing up today and get your free affiliate links. Simply place them on your website, or email them to anyone you think might be interested (no spamming).
Affiliate payments will be paid monthly.
SIGN UP FOR THE WORK AT HOME MOM ADVERTISING AFFILIATE PROGRAM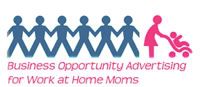 Already an affiliate? Log in Here!